Activities > Dogsled excursion
To cross the snow-covered nature by dogsled, this is probably one of the most appealing activities you can undertake during the winter. Controlling your own dogsled. The dogs used for this are huskies. This breed is built for an outside life, to be active. If they are harnessed, they know they can race. It takes a lot of effort to slow them down.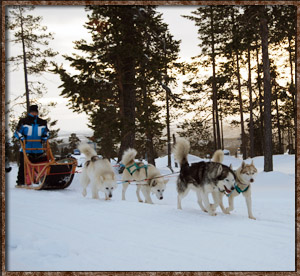 You can take a ride with a small group and a guide. You can also take part in a larger group. Whatever you choose, you will always have the possibility of controlling the sled yourself.